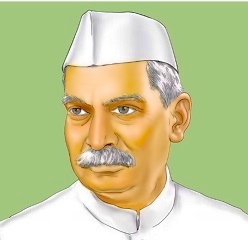 Dr Rajendra Prasad (1st President of India)
Rajendra Prasad (3 December 1884 – 28 February 1963): The first President of India was Dr. Rajendra Prasad, who served two terms as President. He is also the Chairman of the Constituent Assembly and the main leader of the Indian independence movement. In 1962, he was awarded the Bharat Ratna.
He joined the Indian National Congress during the Indian Independence Movement. and became an important leader from Bihar and Maharashtra. Prasad was a supporter of Mahatma Gandhi, who was imprisoned by the British during the Satyagraha in 1930, and the Indian resignation movement in 1942. After the elections to the Constituent Assembly in 1946, Prasad served as Minister of Food. to 1948. After gaining independence in 1947, Prasad was elected chairman of the Constituent Assembly of India, which drafted the constitution of India and served as an interim parliament.
Rajendra Prasad was born into a Kayastha family at Ziradeya in the Sivan district of Bihar during the British Raj. His father, Mahadev Sahay Srivastava, was a scholar in both Sanskrit and Persian. He told his son about the Ramayana and Mahabharata. He was the youngest child, he had a brother and three sisters. His mother died when he was young. and his sister took care of him.